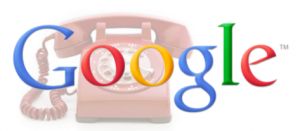 Recently, Google announced forwarding numbers for their AdWords Adverting platform to help better bridge the gap between when someone views a Google Ad and clicks, then calls a special phone number displayed on the websites and identifies the click-through coming from the Ad within their Analytic reports.
New Conversion Type uses Google Forwarding Numbers
… many customers also call your business after clicking through a Google ad and learning more about the products and services you offer on your website. That's why today we're launching website call conversions, a powerful way for you to identify and measure calls from your website that occur after an ad click.
Basically, Google realizes that there's a demand for a better understanding between conversions and when (for example) someone in a panic searches for "24 hour plumber" because they have a basement full of water at 3AM in the morning and calls the plumber from the search results vs. filling out a contact-us form and waiting. The Converg call tracking and call measurement service is best suited for the service industry where their clients would rather call them (either in an emergency or just to speak about something personal).  Services that work best for our call tracking include (but not limited to):
Plumbers
Electricians
Legal Issues (DUIs, bail bondsman, etc.)
Water Damage services
Pest Control Services (Rodents, wasps or urgent issues)
And many more…
We've been providing a custom and dynamic method that goes beyond where Google leaves off from their ad-only tracking.  Our  call tracking covers on-line or off-line tracking through dynamic and static local numbers for businesses.  Whether it's direct-navigation (they just type in your domain name directly), referral traffic (from another website), social mentions or PPC / Advertising channels. We're actually integrating our tracking into a plugin within Google Analytics so that soon, you'll be able to see on your dashboard the results on how people got to you when they called you. If you would like to check out what Converg can do for the service industry or would want additional information, then please contact us and we'll be happy to help you identify your traffic sources and conversions.
NOTE:

Converg clients are doing very well with the latest update and algorithm changes like these only help increase our clients positions.
So, who's who?

Panda

Penguin

Hummingbird
First Launched
24 Feb 2011
(last updated in May 2014)
24 April 2012
(new updated is expected soon)
August 2013
Also known as
Farmer update
Web spam penalty
Semantic search update
Nature
Penalty,
based on low quality
Penalty,
based on low quality
A change of the entire
ranking algorithm
(no penalties issued
for separate sites)
Goal
To target sites with low-quality content and display them lower in search results.
To target web spam, i.e. sites not following Google guidelines and manipulating Google rankings.
To make Google respond not simply to keywords in a query, but to users' actual search intent behind these keywords.
---
Panda 4.0 — May 21, 2014 – Some of the Panda algorithm change might have been to reverse some of the damage done to sites that had great content yet were impacted for other on-page reasons.  Ebay seems to have been hit real hard.
Payday Loan — May 21, 2014 – Update to identify hacked websites and inbound links to financial, payday or pharma. (in general)
Chatter — March 25, 2014 – Major algorithm flux trackers and webmaster chatter.  Speculating something new or major coming out.
Page Layout #3 — February 6, 2014 – Google "refreshed" their page layout algorithm, also known as "top heavy". Originally launched in January 2012, the page layout algorithm penalizes sites with too many ads above the fold.
Penguin 2.1 (#5) — October 4, 2013 – After a 4-1/2 month gap, Google launched another Penguin update. Given the 2.1 designation, this was probably a data update (primarily) and not a major change to the Penguin algorithm. The overall impact seemed to be moderate, although some webmasters reported being hit hard.
Hummingbird — August 20, 2013 – Hummingbird has been compared to Caffeine, and seems to be a core algorithm update that may power changes to semantic search and the Knowledge Graph for months to come.
If your site has been subject to an Un-natural Link warning in your webmaster tools account, you will need to identify which links are of concern and submit a reconsideration request once you cleaned them up.
Reconsideration requests to Google is only for websites who received an un-natural link warning.  Un-natural Link warnings -if any- can be found on the webmaster tools under the "Manual Action".
Google's un-natural link warning Example:
"We've detected that some of the links pointing to your site are using techniques outside Google's Webmaster Guidelines.

We don't want to put any trust in links that are unnatural or artificial, and we recommend removing any unnatural links to your site. However, we do realize that some links may be outside of your control. As a result, for this specific incident we are taking very targeted action to reduce trust in the unnatural links. If you are able to remove any of the links, you can submit a reconsideration request, including the actions that you took."
What's the difference between algorithmic penalty and manual penalty you ask?  Google has an automatic algorithm and manual webspam team to find which sites has as bad back link profile.   An algorithm penalty is done automatically by Google's ranking software.  Algorithmic penalized sites will witness a drop in SERP positions and thus a steep decline in traffic.  If a site is hit by algorithmic penalty it will not receive an un-natural link warning.
Manual penalty is applied by Google's Search monitoring team who manually had analyzed bad links, took action and then sent an un-natural link warning to the website owner like the one above.
If you had submitted articles with "follow" links and stopped promoting your site, failing to adjust to the changes that Google has recommended for articles sites, then you may have receive a notice like this.
Things to avoid

Press Release Links with Exact Match Anchor Text — Should you disavow?  This is a difficult one to call but if you have non-branded anchor text links in a press release, you could be at risk.  Branded links in a press release are perfectly natural and before you take action, these PRs should be reviewed on a case by case basis.  We ensure that our client's press releases are branded and newsworthy.
Poor Quality Article Directories — Poor quality article directories should be disavowed.  Niche directories are fine.  If you run an Remodeling website and are included in a Home Remodeling article directory, then that is fine (why wouldn't you want to be in there).  If you're listed in a generic directory and not in a specific category,  then I would disavow this source at domain level only if you are not able to log into your article account and update the links to "no-follow" and ensure your category is specific to your industry.
Link Networks — Don't use them.  Never use networks or schemes to help you rank.  It also seems there is mass confusion about link networks and what they are.  Simply put, a link (or site/blog/article) network is a group of sites that are connected.  They can be owned by one person or multiple people, their connections can be as obvious as a badge displayed that proudly identifies the site as a member of X network or as covert as a footprint uncovered by lots of digging.  Avoid any site that Page that lists a ton of other sites. This can be linked with the anchor "Friends" or "Partners" to "Proud partner in XYZ Network" or "See our other networked sites" which is the key here — the wording about networks specifically.  It doesn't always indicate a network, but it does indicate the need for stricter review.

Footer Links — Footer links are totally legit, when they appear in a natural number, correlated to the distribution of the visual positions on a page, of all your backlinks.   Footer links to avoid are the ones that sell links, are involved in link exchange schemes or have widgets or plugins installed (usually for SERP manipulation).  There are situations when Google does not flag footer links, but no one says that they are not discarded from Google's ranking algorithm.
Site-wide links – Many companies get their partners to have site-wide footer links to their domain. This can look unnatural and again for peace of mind I would no-follow the link if possible or if it's completely not relevant to your product/service/industry.  If your domain does not have the necessary authority and receives a couple of site-wide links from some low quality sites, your site can be subject for manual penalty action.
Blogrolls and Blocks of Links — Blogrolls might also be considered a "link network" but a public one with no exact control of who includes the widget on the site. Too many links that fit these patterns might be viewed as unnatural by the Google algorithm and you might get penalized for them.  Some of those links can be site-wide links or not.  Make sure your links are "no-follow" from anything like these.
Forum profile links & Forum Signatures — Forums are abused the same way blogs are.  Having people discuss your website is natural, what is not natural is non-relevant signature links and profiles on sites that are not relevant.   For example, if you're on a webmaster forum and post about optimizing your website and have a link in your signature about image optimization, then this would be relevant.  If, on the other hand, you have a signature promoting a keyword that is about concrete polishing, then it really has nothing to do with the site you're on and would not be a positive link for your website.
Anchor Text Distribution — Over optimization of anchor text does not appear natural and will definitely be flagged for review.   This still holds today and forever.    A natural backlink profile for a top level domain who has never invested into SEO strategies is likely to have an anchor text distribution of about:
15-20% Primary Keyword Exact Match
This is your primary keywords that you would like to rank in the search engines for. These keywords are exact matches, or the equivalent of doing a search with the term in double quotes. (example: "plumbing supplies")
12-18% Partial Match / Phrase
Phrase backlinks are anchor text links that include your exact match keyword, plus additional "filler"/prepositional words. Using the "plumbing supplies" exact match example from above, an example phrase would be "the best resource for plumbing supplies in the area".
23-34% Brand Match
Brand related is segmented into three distinct parts:  the brand name by itself, brand name plus exact match keyword, and finally brand name phrases.  Expanding on our "plumbing supplies" keyword example, a brand related keyword instance could be "Bob's Plumbing services".
10-15% Misc
Other links refer to non-contextual links such as "website", "click here", as well as image links.
20-30% Domain Match
Bare links, or domain specific, is the absolute URL of a webpage. For example, "http://www.example.com" would be a bare domain match link.
In Conclusion
Based on what Google hints at, the global environment changes for webmasters.  You need relevant backlinks to your website to give you importance.  Google looks at no-follow links as a way now to show you are promoting your content through articles & article directories but are not necessarily submitting your content for the sole purpose to pass "Google juice" or to increase your total number of backlinks.  Based on what Google as said regarding this, we adjust what we do for our clients to ensure that the submissions contain no-follow links but still adhering to the unique content and relevant category of the locations we submit to like we've always done.
The best way to get other sites to create high-quality, relevant links to yours is to create unique, relevant content that can naturally gain popularity in the Internet community.   This is what we do for our clients.  Creating good content pays off: Links are like editorial votes given by choice, and the more useful content you have, the greater the chances someone else will find that content valuable to their readers and link to it.
If your company has been subject of a manual penalty with an un-natural link warning or you believe that you're subject to an algorithmic penalty, then contact us to help you by performing a complete backlink audit of your existing links and submitting a link removal request to website owners.  We will also complete an anchor text audit and submit a disavow link list for problematic links and finally a reconsideration request on your behalf to Google.
By Shane Kinsch
This infographic has everything you need to know about how the Google AdWords program works and why some pricing for keywords are more expensive to you thank your competitors.

Original Penguin Update:   Tuesday, April 24th, was a day that seemed normal until, a reasonably noticeable drop in rankings changed things. What did Google do?  Could it have been another, more aggressive version of Panda? A part of the "no ads above the fold" algorithm change? Maybe it was the famed and feared over-optimization penalty that has been looming since Matt Cutts mentioned it a couple of months back?
Apparently, it turned out to be a uniquely different new search algorithm targeted at catching webspam, strangely enough called "Penguin" (black and white like a Panda, although not as large or imposing…) – this is actually the change Matt Cutts was talking about, but he told Search Engine Land that using the term "over-optimization" wasn't entirely accurate, because the algorithm doesn't target SEO, just webspam. Now, normally, the majority of peoplewould say webmasters don't need to panic about this sort of thing , provided that their sites aren't spammy. However the perception Google's algorithm has of spam as well as the perception of spam that you, as a site owner may have are not the same – so, even though you may believe your own site would not be affected, it usually is plausible (though Google does state that this update only has an effect on around 3.1% of searches).
This algorithm boils down towards the age-old battle between "white hat" as opposed to the "black hat" SEO. It will "Reward" high-quality sites and punish black hat webspam which is everyone's goal in this algorithm update.
Basic Things to Avoid :
Google is on a mission to rank high-quality sites and lower sites that "are participating in webspam tactics to manipulate search engine rankings," the search algorithm will specifically be attuned to tactics that webmasters could use to get better rankings through questionable schemes, such as the following:
Keyword Stuffing – Avoid repeating your keywords too many times on a page (in fact, try to stay within 2-4 times), and steer clear of throwing keywords into content that is definitely unrelated for them. Should you use keywords and phrases more often than once, be sure they make sense in perspective and that the article flows while using the keywords included. This ensures the user's reading experience is a useful one knowning that your site content is correctly optimized for search engine utilization.
Link Schemes – Since you probably know, Google analyzes the number of sites backlinking to you (the greater sites that link back to yours, the greater you're considered an "authority" by Google) as a means of discerning whether your website is relevant and beneficial to users. Your link profile has a large amount to do with your site's rankings. Backlinks you build needs to be quality ones, and in addition they really should be strongly related your website. Quality over quantity is quickly becoming a new industry standard.
Duplicate Content – An honest mistake is ok, however when you are purposely plagiarizing and copying content, don't anticipate to rank in the SERPs and, with a related note: Don't Post Good Content. Post GREAT content. Obviously, as Google indicates in their Webmaster Guidelines, it's always better to naturally garner links simply by creating relevant, high-quality content that people naturally hyperlink to. However, for sites that take part in SEO, this may not always be the easiest thing to do. Regardless of how you garner links, your content should ALWAYS be great – content that is certainly grammatically correct, that flows, and that is certainly easily consumed by the search engines like google and not loaded with keywords. As Google concludes: "We want people doing white hat search engine optimization to be able to focus on creating amazing, compelling websites)."
Do you want more Information, or if you would like to find out more info on Internet search algorithm updates? Need methods for engaging in white hat SEO? Visit our B2B blog for regular updates, free tips, and more. Have questions that are more specific in your business? Give us a call at 888-888-1022.
The Internet accounted for $684 billion, or 4.7% of all U.S. economic activity in 2010, Boston Consulting Group found. By way of comparison, the federal government, contributed $625 billion, or 4.3%, to the nation's output.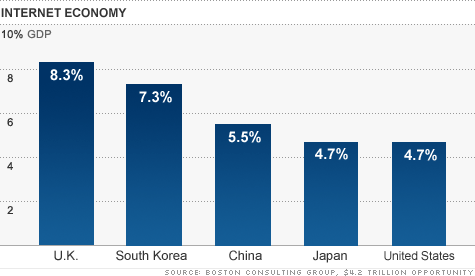 If it was considered its own separate industry, the Internet would also be larger than America's education, construction or agricultural sectors.
In the retail sphere alone, e-commerce accounted for 5% of U.S. sales in 2010.
"All businesses are increasingly digital and need to think about how to take advantage of these opportunities," said Dominic Field, a BCG partner and co-author of the report. "And for policymakers, we would hope they recognize the importance of Internet growth and making sure their countries are taking advantage of these opportunities."
As a share of gross domestic product, only three countries have larger Internet economies: the United Kingdom, South Korea and China. The U.S. is tied with Japan.
Boston Consulting Group predicts the Internet will grow about 10% a year through 2016 in the Group of 20 nations. It will grow nearly twice as fast in emerging markets as in developed economies, with Argentina and India accounting for the fastest growth, the study said.
"The U.S. is relatively mature as an Internet economy, whereas some of the developing economies are further behind — so their growth rates are higher," Field said.
Granted, measuring the full impact of the Internet can be a fuzzy matter. In the Boston Consulting Group study, the researchers included the impact of e-commerce, what consumers pay to access the Internet and money spent by businesses and the government on building Internet infrastructure.