Just a few days ago, Google's own John Mueller felt the need to reiterate that new generic Top-Level Domains (gTLDs) still in fact do not provide any ranking benefit in search results.  In fact, they're well in line with how a sub-domain would rank.
Previously when the new gTLDs were making momentum in 2012, Matt Cutts stated this fact in response to an article which claimed new gTLDs did provide a rankings advantage.  For some reason, John Mueller felt the need to share this information again as even more new gTLDs enter the domain registration market, 400+ as of December 2014.
For those that may not be aware, you can register domains now with an extension other than the most popular .com, .net and .org.  Extensions such as the ones above in the image, but there's some really stupid gTLDs that have been approved and have made it in the root zone.  From there, this has to be one of the funniest images he has on his site:

These days there's a lot more to choose from beyond the traditional .com, or .net, but none of them will give you any advantage in the search engines. From what I gather after reading Mueller's statements, there's no disadvantage to using these either. "They can perform well in search, just like any other TLD can perform well in search," says Mueller.
The new gTLDs when registered, will act just like any web "page" or sub-domain and is unique in Google's eyes as www vs. no www is.  If you do decide to register a domain under one of the new gTLDs, then you should put a lot of effort into it because it's going to be a hard uphill battle.  For those who have premium .com domains and are just sitting on them, you need to start developing or someone with a hideous gTLD will come along and start and a year from now, you'll wish you had started today!
You should not be swayed by any posts claiming to have data which suggests new TLDs are doing well in search results. If that's the case, it's not due to any artificial boost or preference from Google. You can make a great website that performs well in search on any TLD, but obviously the longer you have it public, the better chance you get to play outside of the sandbox.
More bad news for traditional media outlets.   The revenue drain at traditional media outlets is accelerating as advertisers shift their marketing dollars to the web.  A new survey of business marketers from Forrester Research says that 60% of those surveyed intend to increase their interactive marketing budgets by shifting money away from traditional media.  According to a Research Brief article at MediaPost.com, direct mail is the category the largest percentage of marketers planned to cut, with 40% of them saying they would make reductions there. Newspapers were the #2 target on the hit list, named by 35% of respondents. 28% said they would spend less with magazines and 12% cited television as the medium where they were most likely to cut back.
The study says the biggest winners among interactive platforms will be social media and mobile marketing platforms. Over the next five years, social media is expected to enjoy a 34% annual growth rate (compounded annual basis) with mobile marketing increasing by 27% a year. That means social media would explode from $716 million in 2009 to $3.11 billion by 2014.  Mobile marketing would zoom from $319 million this year to $1.27 billion by 2014.
Online Display Advertising is Outpacing Traditional Media
Online display advertising is expected to go from $7.83 billion this year to $16.9 billion in 2014 – a 17% annual growth rate.  Today's 800-pound gorilla, search marketing, is expected to grow more slowly, but still a very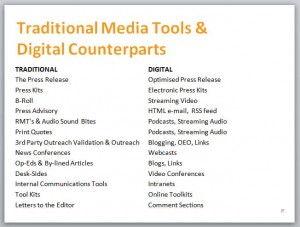 healthy 15% annually, which would take it from this year's $15.39 billion to $31.59 billion five years from now. Email marketing is projected to go from $1.25 billion to $2.08 billion – an 11% annual rate of growth.
Budget Readjustments for Traditional Media
To show just how bad things are going for the traditional media platforms, a corollary report from Forrester says budgets for old standbys like television, print, radio and magazines, along with staff and training expenses and branding/advertising expenditures have been slashed by two-thirds from last year's levels. When it comes to media and advertising, the Internet is obviously where you want to be.
See also:
More Advertisers Turning To Internet
To help you understand why Traditional Media is failing to meet the demands of  New Media, please
contact us
and and we'll be happy to help you with your Internet marketing Strategy.
… and relying less on print.
The majority (92%) of advertisers are using Internet advertising in their media campaigns followed by print advertising at 88 percent, according to a new LinkedIn Research Network/Harris Poll.
At the same time, less than half are using radio advertising (46%), television advertising (46%) and mobile advertising (39%). The Harris Poll found there is a regional difference as advertisers in the South are more likely to use radio advertising (57%) and television advertising (56%) while those in the West are least likely to use both (39% each).

Among those advertisers who are using each of these types of media, there is a difference in the level of usage since last year. Three-quarters of those who use Internet advertising (74%) say they are incorporating it more often while 69 percent of those who use mobile advertising are using it more often compared to a year ago. Unsurprisingly, the largest drop is with print advertising as half (49%) of those who use it are using it less often compared to a year ago while 41 percent are using it the same amount.
Of those who use Internet advertising just 14 percent say they use it in a standalone campaign, while 54 percent say the use it in an integrated campaign with other media and 33 percent use Internet advertising in both types of campaigns equally.
Four out of five advertisers who use Internet advertising use it as a branding device (79%) and two- thirds use it to drive information gathering for an offline transaction (65%). Slightly less than three in five advertisers (58%) use Internet advertising to drive online transactions while 57 percent say the use it to promote community around their brand.
Internet users find many aspects of online advertising very annoying. The majority (80%) say they find ads that expand on the page and cover the content very frustrating while 79 percent say ads where they can't find the close or skip button are very frustrating.
Three-quarters of consumers (76%) find Internet ads that automatically pop up very frustrating while two-thirds (66%) say ads that open if they are "moused over" are very frustrating. Three in five consumers find both animated ads that automatically start playing and ads that play music and/or have loud soundtracks to be very frustrating (60% for both).
"Although the trend among advertisers is clearly towards the Internet, advertisers have to walk a fine line," the study concludes.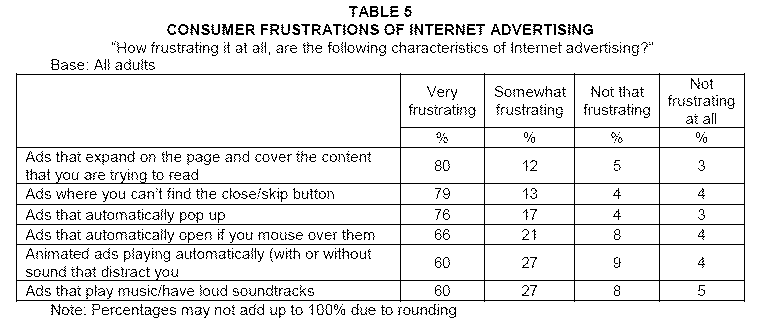 At least three in five consumers are very frustrated with six of the main Internet advertising characteristics, and there is the potential to see a backlash forming. To be successful, those that advertise on the Internet will need to come up with more engaging ways to connect with consumers.  This is where Converg Media comes in, we bring the convergance of different media type into your advertising campaigns.
See also:
The Doom of Traditional Media
Inbound Marketing vs. Outbound Marketing
Watch this video for a bit of humor on the future of Newspapers: