Google Introduces Website Call Conversions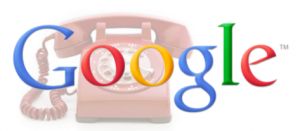 Recently, Google announced forwarding numbers for their AdWords Adverting platform to help better bridge the gap between when someone views a Google Ad and clicks, then calls a special phone number displayed on the websites and identifies the click-through coming from the Ad within their Analytic reports.
New Conversion Type uses Google Forwarding Numbers
… many customers also call your business after clicking through a Google ad and learning more about the products and services you offer on your website. That's why today we're launching website call conversions, a powerful way for you to identify and measure calls from your website that occur after an ad click.
Basically, Google realizes that there's a demand for a better understanding between conversions and when (for example) someone in a panic searches for "24 hour plumber" because they have a basement full of water at 3AM in the morning and calls the plumber from the search results vs. filling out a contact-us form and waiting. The Converg call tracking and call measurement service is best suited for the service industry where their clients would rather call them (either in an emergency or just to speak about something personal).  Services that work best for our call tracking include (but not limited to):
Plumbers
Electricians
Legal Issues (DUIs, bail bondsman, etc.)
Water Damage services
Pest Control Services (Rodents, wasps or urgent issues)
And many more…
We've been providing a custom and dynamic method that goes beyond where Google leaves off from their ad-only tracking.  Our  call tracking covers on-line or off-line tracking through dynamic and static local numbers for businesses.  Whether it's direct-navigation (they just type in your domain name directly), referral traffic (from another website), social mentions or PPC / Advertising channels. We're actually integrating our tracking into a plugin within Google Analytics so that soon, you'll be able to see on your dashboard the results on how people got to you when they called you. If you would like to check out what Converg can do for the service industry or would want additional information, then please contact us and we'll be happy to help you identify your traffic sources and conversions.
You may also be interested in...