SEO for a Security Company
Client objectives
A security company located in the Midwest contacted us to help them increase their Organic search results, specifically to enhance their local and regional presence along with self-maintaining their own SEO after the contract term was over.   The results after 1 year were substantial and maintained ranking positions that also expanded nationwide. This broadened the clients' service offerings to provide a new turn-key security system offering with video capabilities where the company can simply ship out a box with all necessary components for the end user or business to self-install.
Contract started: April 1st
04/01 – 04/30: First 30 days of project
Keyword research, account creations, & on-site optimization. Add analytics code and tracking code to establish baseline
05/01 – 05/31: Month 2
Write & Published articles, press releases, social bookmarking, document sharing
06/01 – 07/30: Months 3 & 4
Video creation, promotion, distribution & bookmarking. Keywords added to infrastructure
08/01 – 03/30: Remainder months:
Each month we create unique article writing, PR writing, blog posts, social bookmarking, document sharing, multimedia creation and video creation. Once approved by the client, we then distribute and share this content to targeted and approved locations.  Additional backlinks created to relevant areas we have exclusive access to and are naturally applied over time.  This creates a perfect storm for our clients where each form of media presented to the various locations tells the crawlers that our client's message is important.
First 3 Months Results Comparison
Comparing: 03/21 – 06/20 (previous 3 months) vs. 06/21 – 09/20 (next 3 months)
Observation: Noticed a significant increase in traffic
Organic traffic +696.04%
 Direct Navigation: +284.56%
 Referral Traffic: +1,492.86%
Stats
Sessions: +2555.76% New Sessions: +73.97% New Users: 1,040.83% Bounce Rate: Reduced by 2.35%
 Pages per Session: +13.72% Avg Session Duration: +119.68%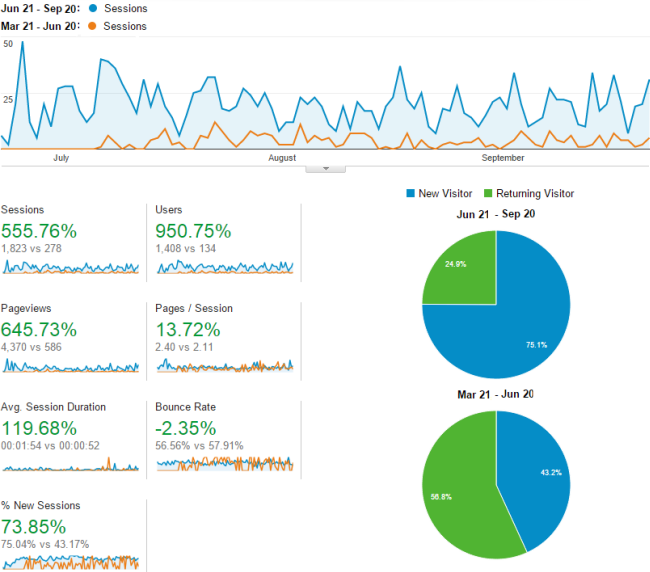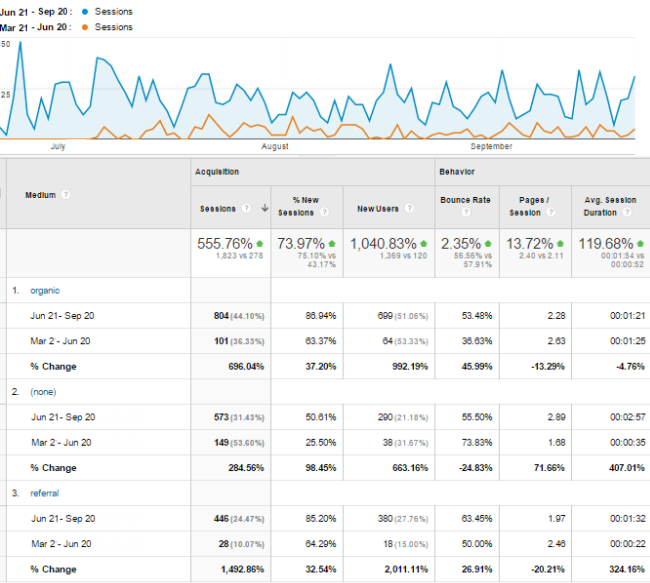 Year over year comparison (same time frame)
Comparing: 03/21 – 06/20 vs. previous year (same time)
Observation: 1 Year later, rankings are still very strong.
Organic traffic +5,580.20%
 Direct Navigation: +936.91%
 Referral Traffic: +2,746.43%
Stats
Sessions: +2,806.47% New Sessions: +92.27% New Users: 5,488.33% Bounce Rate: Reduced by 5.95%
 Pages per Session: +8.02% Avg Session Duration: +83.57%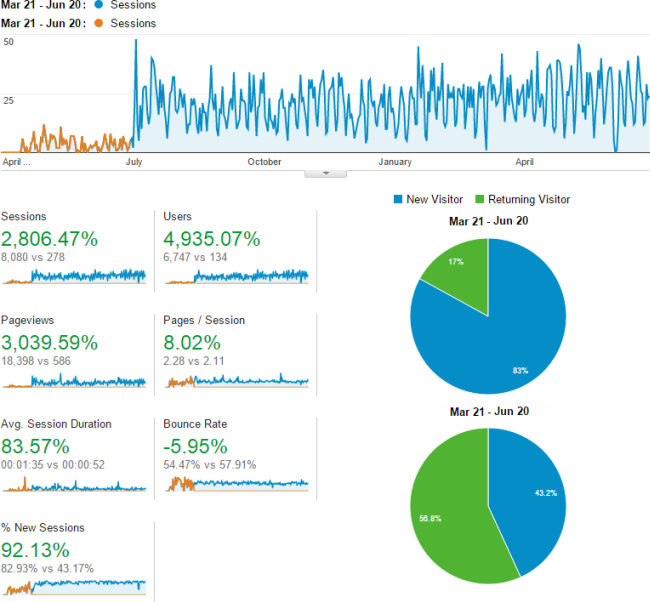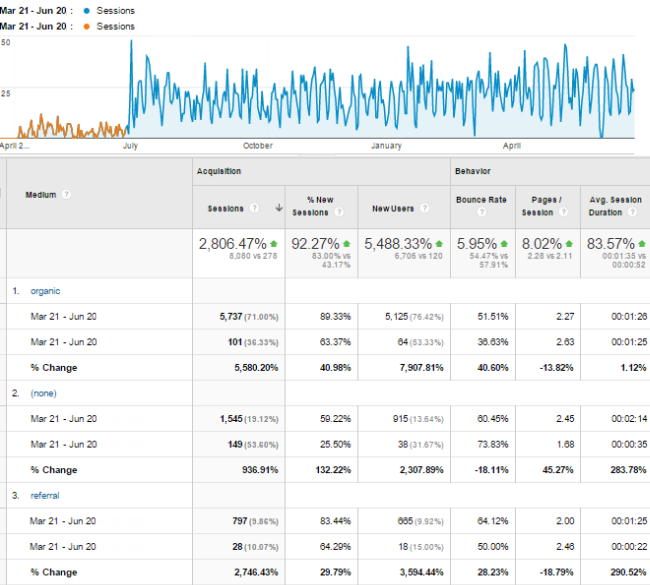 Conclusion
Theses results are impressive, no doubt and are not typical but we know the right combination and solution for the clients we work with.  Our objective is to show our clients their potential, and enhance their exposure to reinforce their products or services.
To find out more on how we do this for our clients or how we can do this for your company as a reseller for your clients, please contact us for more information to learn more about what we can do.