The $684 billion Internet economy
The Internet accounted for $684 billion, or 4.7% of all U.S. economic activity in 2010, Boston Consulting Group found. By way of comparison, the federal government, contributed $625 billion, or 4.3%, to the nation's output.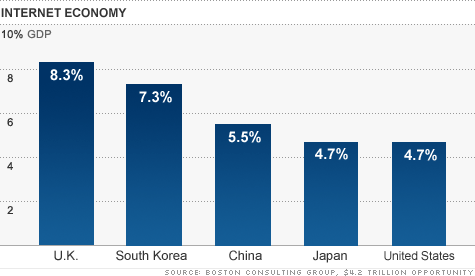 If it was considered its own separate industry, the Internet would also be larger than America's education, construction or agricultural sectors.
In the retail sphere alone, e-commerce accounted for 5% of U.S. sales in 2010.
"All businesses are increasingly digital and need to think about how to take advantage of these opportunities," said Dominic Field, a BCG partner and co-author of the report. "And for policymakers, we would hope they recognize the importance of Internet growth and making sure their countries are taking advantage of these opportunities."
As a share of gross domestic product, only three countries have larger Internet economies: the United Kingdom, South Korea and China. The U.S. is tied with Japan.
Boston Consulting Group predicts the Internet will grow about 10% a year through 2016 in the Group of 20 nations. It will grow nearly twice as fast in emerging markets as in developed economies, with Argentina and India accounting for the fastest growth, the study said.
"The U.S. is relatively mature as an Internet economy, whereas some of the developing economies are further behind — so their growth rates are higher," Field said.
Granted, measuring the full impact of the Internet can be a fuzzy matter. In the Boston Consulting Group study, the researchers included the impact of e-commerce, what consumers pay to access the Internet and money spent by businesses and the government on building Internet infrastructure.
You may also be interested in...