Google's "over optimization" Penalty
Recently, Matt Cutts spoke at SXSW where he announced that Google is working on a search ranking penalty for sites that are "over-optimized" or "overly SEO'ed."
Matt Cutts said the new over optimization penalty will be introduced into the search results in the upcoming month or next few weeks. The purpose is to "level the playing field," Cutts said. To give sites that have great content a better shot at ranking above sites that have content that is not as great but do a better job with SEO.
Here is the transcription from SEL of Matt Cutts:
What about the people optimizing really hard and doing a lot of SEO. We don't normally pre-announce changes but there is something we are working in the last few months and hope to release it in the next months or few weeks. We are trying to level the playing field a bit. All those people doing, for lack of a better word, over optimization or overly SEO – versus those making great content and great site. We are trying to make GoogleBot smarter, make our relevance better, and we are also looking for those who abuse it, like too many keywords on a page, or exchange way too many links or go well beyond what you normally expect. We have several engineers on my team working on this right now.
Back in 2009, Matt did a video on over optimization penalties saying there was no such thing.  Here is that video:
What does this mean for Search Engine Optimization for 2012+?  Well, there's two main points to take away from this:  On-site optimization or "over optimization" and Off-site link building.
On-site optimization or "over optimization"
What does this mean?  Why would it matter?  Well, basically it comes down to whether or not your site or page contains valuable unique content that's fresh and not full of ads or just a 'lander' where you capture a lead with very little content.  Lander pages are great for converting an online Ad (Adsense, etc.) but not for SEO.  Keep your landers separate from your primary page.  In other words, don't make your home page the "lander" page.  Make it useful.  If you're creating a lander for advertising and conversion tracking, then make it separate from your home page.
Are you updating your content often?  Weekly?  Are you linking to 'bad neighborhoods' (i.e. link sharing programs or anything else that may seem a bit unscrupulous)?  Are you not allowing some of your 'link juice' to be credited to other sites?  In other words, you should typically use no-follows for any links going out of your site — unless it's a similar site which you should allow some of your link-juice to follow.  Don't sell links on your site and don't engage in any activity on-site that will penalize your work.
So what to do?
On-site optimization in the very basic form should concentrate around your primary keywords, but also make it valuable for the visitor (aka real humans) that come your way.
Just make sure your keyword for your page is in the Title, H1/H2/H3 tags, bold somewhere, italicized somewhere and typically within the last paragraph of the page.  Make sure your keyword density isn't too high and make sure your page is natural and has more content than all the navigation and template text on your site.  In other words, if you have a lot of navigation & template text (footer, etc.) but your actual real content on the site is < that of the nav + footer, etc… then you might want to increase your content… keep it fresh!
Don't overly use multiple keywords on any single page.  Use a keyword map that helps you organize your website with they keywords you're focusing on such as: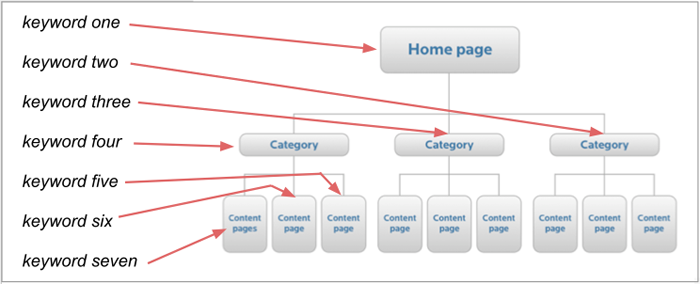 Off-site link building
What's at issue here and what will it mean for the future for link building?  Who is ultimately effected by this upcoming algorithmic change?
No one can be certain but we do know Google and Bing are looking for quality content and quality backlinks.  For the software vendors that create tools that try and game the search engines by creating thousands of backlinks, spamming the search engines or hiring individuals or companies that promise 20,000 backlinks in 1 week for $100.. those types of organizations are going to be worthless.  Although Google won't penalize you for those hideous no-quality backlinks, they won't help either.
What works now and in the future is unique quality content created and distributed throughout the Internet written for humans to read and utilize.  Creating unique external content about your company or website, linking back to you is key.  Try and find websites that have articles or content like your own and ask if they would link to you but this is hard on an individual basis.  For example, put yourself in their position, would you blindly link back to someone without something in return?  What would that "something" be?  Would be be a monetary fee?  Why would anyone want to link back to your website especially if it's a product page or you're selling something.  If your page is full of ads I certainly wouldn't link back to you.. why would anyone else?
Conclusion
Converg helps overcome these obstacles by doing all this work for you.  We help Fortune 500 companies with their organic search optimization and do it 'naturally'.  No quick fix, no crazy link schemes.
When we do your link building for you and create that buzz about your company or services, it's just natural for the search engines to follow suit and make your site more prominent over your competition.
You may also be interested in...