The Doom of Traditional Media
More bad news for traditional media outlets.   The revenue drain at traditional media outlets is accelerating as advertisers shift their marketing dollars to the web.  A new survey of business marketers from Forrester Research says that 60% of those surveyed intend to increase their interactive marketing budgets by shifting money away from traditional media.  According to a Research Brief article at MediaPost.com, direct mail is the category the largest percentage of marketers planned to cut, with 40% of them saying they would make reductions there. Newspapers were the #2 target on the hit list, named by 35% of respondents. 28% said they would spend less with magazines and 12% cited television as the medium where they were most likely to cut back.
The study says the biggest winners among interactive platforms will be social media and mobile marketing platforms. Over the next five years, social media is expected to enjoy a 34% annual growth rate (compounded annual basis) with mobile marketing increasing by 27% a year. That means social media would explode from $716 million in 2009 to $3.11 billion by 2014.  Mobile marketing would zoom from $319 million this year to $1.27 billion by 2014.
Online Display Advertising is Outpacing Traditional Media
Online display advertising is expected to go from $7.83 billion this year to $16.9 billion in 2014 – a 17% annual growth rate.  Today's 800-pound gorilla, search marketing, is expected to grow more slowly, but still a very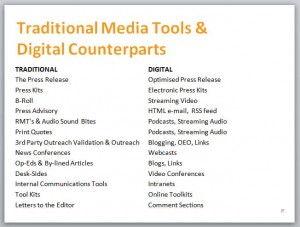 healthy 15% annually, which would take it from this year's $15.39 billion to $31.59 billion five years from now. Email marketing is projected to go from $1.25 billion to $2.08 billion – an 11% annual rate of growth.
Budget Readjustments for Traditional Media
To show just how bad things are going for the traditional media platforms, a corollary report from Forrester says budgets for old standbys like television, print, radio and magazines, along with staff and training expenses and branding/advertising expenditures have been slashed by two-thirds from last year's levels. When it comes to media and advertising, the Internet is obviously where you want to be.
See also:
More Advertisers Turning To Internet
To help you understand why Traditional Media is failing to meet the demands of  New Media, please
contact us
and and we'll be happy to help you with your Internet marketing Strategy.
You may also be interested in...